We Teach Golf Marketing and Gamification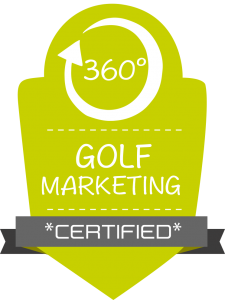 We started in golf and we continue to lead the market in providing digital marketing and gamification training in the industry. Our programs have been developed and customized over the last 10 years. We KNOW golf. Our clients include top facilities such as Taboo Resort, The Ridge at Manitou and even top golf icons such as Annika Sorenstam. Our experiences span Turf to Technology.
Our programs are customized to drive results based on your goals. There are no cookie-cutter approaches. Our marketing specialists assist you throughout the entire marketing process.
AND we are DIFFERENT.
Golf is a GAME. The digital marketing approach needs to keep this in mind. We teach ENGAGEMENT, FUN and COMPETITION. That is GOLF.
Our job is to help you and your team achieve your business objectives and be successful!
The following is an overview of the Golf Marketing and Gamification training modules:
Module 1 – Your Plan
About Your Golfers
Your Facility
Your Assets
Your Competition
Your Market
Your Financials
Module 2 – Awareness
SEO
Social Media
Pay Per Click Advertising
Feature Media
Partners Lists
Email Marketing
Module 3 – Messaging
What Are You Saying
Customer Journey
Relationship Stage
Closing the Loop
Module 4 – Conversion
What Is A Conversion To You
What Should We Track
Understand Your Metrics
Data With Action
Module 5 – Gamification
Understanding Game Principles
Understanding Game Design Elements
Gamification and List Building
Social Gaming and Leaderboards
Rewards, Badges & Levels
Turning Non-Golfers into Golfers